Coastal Storm: 10/26-10/27
Date Posted: Thursday, October 25th, 2018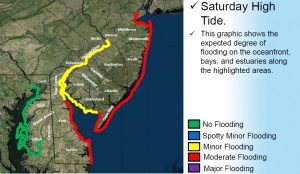 As the remnants of Hurricane Willa move across the Southeastern U.S., a coastal low will form off the coast of the Carolina's and move northward into our area. The storm will move through the region during the later half of Friday and exit the area Saturday afternoon. Here are the key messages for the upcoming coastal storm.
 There will be the potential for wind gusts up to 40 mph, especially along the coast and higher ridge lines.
A combination of the residual high tide Saturday morning and wind-driven waves may lead to minor coastal flooding along the Atlantic Coast, Delaware Bay, and tidal Delaware River.
There is also the potential for heavy rain, but the storm will be progressive and move out of the area within a day, so flooding is more likely to be localized verses widespread.
Gale-force gusts are likely across the waters Friday night into Saturday morning.