Coastal Flood Advisory: 10/9-10/11
Picture of the bayside, 8:00 a.m. on Friday, October 11th: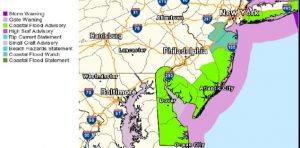 Due to an area of low pressure anchored offshore of the Mid Atlantic region, an extended period of coastal flooding is expected at times of high tide from Wednesday afternoon through Friday evening. Minor coastal flooding is expected Wednesday afternoon through Thursday afternoon, then moderate coastal flooding is expected Thursday afternoon through Friday evening. In addition to coastal flooding, gale force winds of 35-45 knots are expected along the coastal waters, and winds could reach 35-45 mph.