Bonfires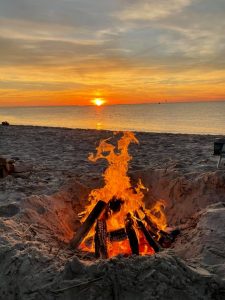 Bonfires on the beach are by permit only and are strictly enforced. ONLY residents, property owners and renters of accommodations within Town limits who are 18 years of age or older, with proof of ownership or rental agreement, may apply for a permit. A valid I.D. will be required at time of permit. The permit holder must be present at the bonfire. The permit holder is responsible for the conduct of the participants and for the clean-up. A non-refundable permit fee ($100.00) and a refundable deposit ($100.00) are required on application.
The Fenwick Island Police Department will issue the Bonfire Permit and verify clean-up. Bonfires are limited to 5:00-11:00 pm with clean-up activities to begin no later than 11:00 pm so that all participants are off the beach by midnight.
No glass containers are allowed. No alcoholic beverages are allowed from May 15-September 15.
Any deposit will be forfeited and bonfire privileges will be suspended for 1 year in the event the area is found to be left in an unsatisfactory condition by the Fenwick Island Police Department.
No bonfires are allowed when a State burning ban is in effect or when the wind is in an easterly direction to protect houses and sand dunes.