General Regulations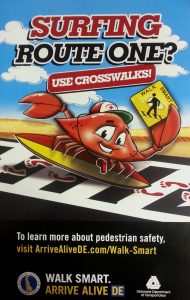 Pedestrian fatalities are on the rise.  Between 2012-2016, 146 pedestrians were killed in Delaware.  The Office of Highway Safety (OHS) has partnered with local police agencies to enforce and encourage safe walking behaviors and interactions with drivers.
Walkers and joggers need to exercise extreme caution. Please travel against the flow of traffic using the sidewalks and crosswalks provided.
Obey all stop signs and speed limits.  Yield to pedestrians in crosswalks.  Slow down when pedestrians are around – speed is the biggest factor in severity of injury.
Bicyclists must ride with the flow of traffic in the bicycle lane. Follow all traffic laws and wear/use reflectors.
All speed limits and traffic regulations are strictly enforced
Driving in the shoulder of Route 1 (Coastal Highway) is a violation and subject to a fine.
Yield the right-of-way to authorized emergency vehicles until they have passed, except when otherwise directed by a police officer.
Do not obstruct an intersection or a marked crosswalk from use by other vehicles or pedestrians.
Juvenile Curfew – Midnight to 6:00 AM – Minors may not be out without a parent or the parent's designee unless the minor is en route to or from work.
Standing, sitting, eating or drinking on any street or highway while using a vehicle as a picnic facility is not permitted.
Living, dwelling, cooking, sleeping, changing clothes or using toilet facilities inside any vehicle within the corporate limits of Town is prohibited.